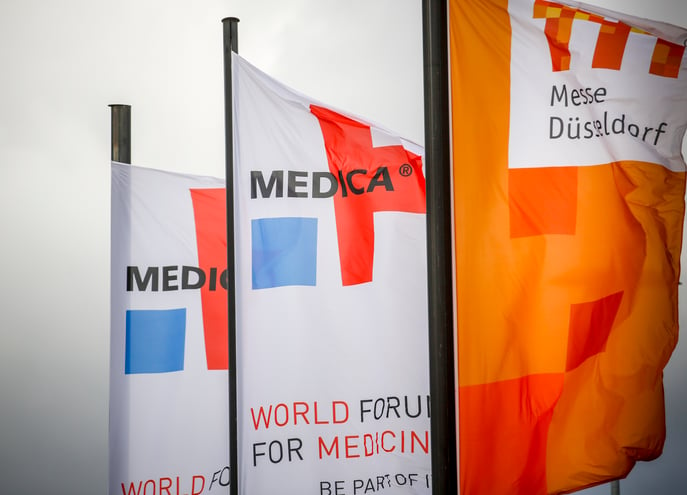 International trade fairs can serve as great B2B arenas for companies and organisations keen on exploring international trade opportunities and industry trends. One of such events is MEDICA – the world's largest exhibition for healthcare and life sciences, taking place on 14 – 17 November in Düsseldorf. In this blog post, we will summarise why MEDICA should be in the event and marketing calendars of those who wish to take their medical products and services to a global level.
Hundreds of thousands of visitors under one roof
There is no doubt why MEDICA is often referred to as 'the place where medicine meets' – the event regularly attracts over 120,000 visitors, including from industry, trade, hospitals and clinics. This is why it is not-to-be-missed for those who want to connect with other professionals, as it offers infinitive networking opportunities. The event is also regularly attended by government representatives.
Global showcasing platform
Attracting 6,000 exhibitors from across 70 countries, MEDICA is the perfect platform for embarking on new partnerships and showcasing medical devices and solutions to a global audience of dealers, buyers, suppliers, and distributors.
Tom Elliott, Managing Director at Medilink North of England, says: "Over our 20 years at MEDICA, we have supported hundreds of UK companies. Our exhibitors leave the event having met with hundreds of new and existing contacts, a greater knowledge of international trade in the region, and a number of strong commercial leads.
"We have examples of companies who have grown their international presence drastically thanks to being regular exhibitors at MEDICA, with some businesses resulting in a 50/50 split between UK and international sales on the back of this event."
Support and advice from industry experts
When exhibiting at country pavilions, companies have access to support from their regional industry experts – and it's not different at MEDICA. Being a part of the Medilink UK pavilion, the largest at this trade fair, means that you can benefit from the expertise of the Department for International Trade, as well as Medilink's specialists themselves, who have in-depth understanding of sector-specific international trade and regulatory landscape.
Learning and researching
This four-day event offers plenty of opportunities to expand your industry knowledge. Attendees have a chance to join forums consisting of keynote lectures and panel discussions which highlight and demonstrate the latest development and trends in medical technology, serving as an exciting addition to this trade fair.
With so many global healthcare companies presenting their products and services in one place, it also makes sense to seek out and research competition, which, more or less, should be one of the activities of every business.
Good Travel Management work closely with Medilink and other trade organisations to ensure their exhibitions and trade mission programmes run smoothly and to budget. With opportunities globally being vital for UK business, International Travel will always be an important component. Our Events and Exhibitions Manager, Ian Cutts, has worked alongside the Medilink team for 9 years and has been there on the ground with groups and trade mission delegates. Ian says: "our experience in the markets where Medilink exhibit is second to none and we collaborate in making sure that members have the best support and travel packages available that also bring together people to collaborate and network too. We are looking forward to Medica 2022 and its particularly positive to see the exhibitor numbers higher than ever"
Are you looking for international trade opportunities for your med-tech business? If yes, then MEDICA should be your next stop! To find out more and to book your place, contact Medilink UK's International team at [email protected] There are limited spaces available, so get in touch as soon as possible!
Still need to organize the travel and logistics to Medica? Speak to the GT Events team here at Good Travel Management, they'd love to hear from you:
T:0330 004 0510 E: [email protected]